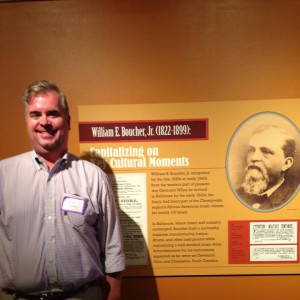 This past weekend, about twenty-five of my Boucher cousins gathered to tour the Baltimore Museum of Industry's show, "Making Music: The Banjo in Baltimore and Beyond," with its three curators. Our visit to the BMI likely marked the first large-scale reunion of the descendants of William Boucher Jr. (1822–1899) in many years – perhaps since the death of my great-great-grandmother (William's widow) in 1923.
I don't think my mother – William Boucher's great-granddaughter – felt especially close to this part of her family. What interest in the Bouchers I heard expressed focused on exactly how we descended from François Boucher, the painter. When my mother was little, it was still permissible to say, vaguely, that we were François' descendants; nowadays, with so many (once buried) resources available to us, the story doesn't really stand up to much scrutiny.
*
The irony, of course, is that the BMI show – featuring the work of Greg Adams, Pete Ross, and Bob Winans – represents the latest research on William Boucher's role in the development of the banjo, in turn the instrument most closely associated with mid-nineteenth-century American popular music. Boucher banjos are depicted in works by Eastman Johnson and William Sidney Mount. Where, oh! where, is this part of the Boucher family's history? Have we been focusing our interest on the wrong progenitor?
Thanks to the Boucher reunion, perhaps, we are beginning to turn the page. William Boucher Jr. can now be seen as an important figure at the intersection of American music and (surprisingly) commerce: his banjos, violins, and drums circulated throughout mid-Victorian America, and theirs is the sound one heard when compositions from that era were first performed. Professional and amateur performers played them; a banjo historian recently likened the Boucher banjo to Sears, Roebuck in its ubiquity and affordability.
*
Descendants of three of William's children attended the reunion: the families of Francis Xavier Boucher (1854–1927), Pauline Boucher Glidden (1875–1964), and Constance Boucher Burch (1887–1977). One of Frank's granddaughters attended, as did one of Pauline's and at least two of Constance's. The youngest family members – Frank's great-great-great-grandchildren – were under the age of five!
Before we visited the show, a number of us took a tour of Boucher's shops along Baltimore Street (all, apparently, knocked down since his day, although all four sites are still in use), and then stopped by William and Frances Boucher's house on Linden Avenue. (The house is for sale, and we were sad that we missed the open house later in the day.) We then had lunch in the BMI's Pavilion, on the harbor, followed by a tour – a tour which included Bob playing his Boucher banjo solo and then with Greg accompanying on the bones. It was a fitting climax to a fascinating day, one marked by new connections within the family, and the potential for shared photos and memories.
I, for one, hope we won't have to wait 91 years for another Boucher gathering!