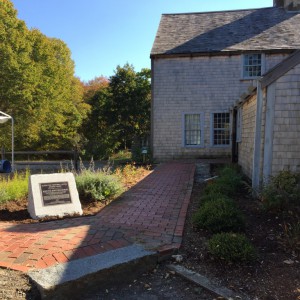 My regular trip from Plymouth up to Duxbury this week was a pleasant, sunny autumnal drive. I wasn't exactly tracing my ancestors' footsteps, since I went up Route 3. (If they had gone overland, their trail would be closer to what is now Route 3A, and more likely than not, they would have gone by boat.) The trip is always a "homecoming" for me, even though my own ancestors have not lived on the homestead since John and Priscilla Alden's daughter, Ruth, married John Bass and moved to Braintree in 1657.
This week there was something new to see. The plaque designating the "John and Priscilla Alden Homestead" as a National Historic Landmark has been set in a granite stone beside the house (see photos). Two separate locations are included in the National Landmark – the site of the cellar hole of the original home (probably built about 1630), and the present house, the first section of which was built by the end of the seventeenth century. But the National Landmark is not for a house. It is for the story of John and Priscilla Alden and their family that began on this homestead, owned by Alden descendants since 1627 and presently owned by the Alden Kindred of America (AKA). The AKA has been holding annual reunions on the homestead for 115 years.
The text of the Landmark designation explains, "Today, the John and Priscilla Alden Family Sites in Duxbury are the single best place in America to understand how the impulse to celebrate the founding of one's family in America (the context that gave rise to and provided the story for The Courtship of Miles Standish in the first place) intersected with Longfellow's literary skill and national need to produce a national origins story that rapidly became part of American folklore to be retold over and over again in an astonishing variety of cultural forms … no family has been more successful in celebrating their immigrant forebears than the Aldens… To understand the power of this impulse and the remarkably rich and varied nature of its impact on Americans, these sites are without peer."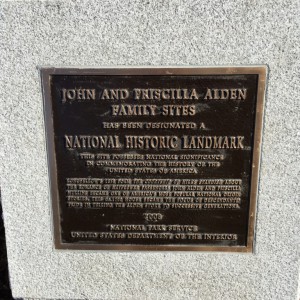 I get chills when I read that because I know what it means. For more than thirty years, I have been involved in the work of the Alden Kindred of America. I've given tours to hundreds of descendants who have made their pilgrimage to the old homestead, and to hundreds more who are not descendants, but who feel the story belongs to them, too. For more about the AKA, go to Alden House Historic Site on Facebook.