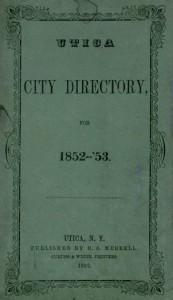 In my role as a technical services librarian at NEHGS, one of my regular activities is selecting books from our research library for digitization, and in recent months I've been focusing on some of the nineteenth century city directories from our rare books collection. City directories can have great research value: in addition to pinpointing the exact years that an ancestor inhabited a particular place, they often provide data about occupation and employers, and can be an especially good resource for locating information about individuals who may have been renters or temporary residents.
All of these factors make early city directories great tools for genealogical research, and excellent candidates for digitization. As a first installment, we recently added a set of city directories from Utica, New York, to our Digital Library & Archive. The Utica collection spans from 1843 to 1861, and, with only a couple of small gaps, the set is nearly complete for that range, making it a particularly good resource for researchers with an interest in the Oneida County area in the 1840s and 1850s.
Below, you can see an excerpt of a typical page from the 1850–51 edition of the Utica City Directory: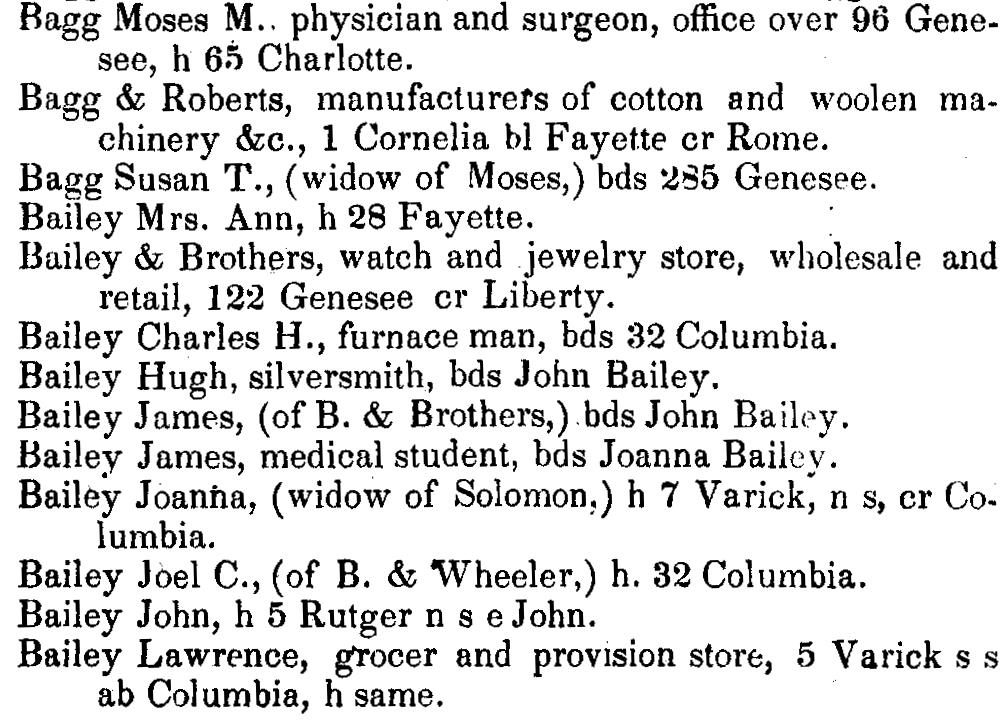 The frequent abbreviations used throughout the directory can initially give the listings a somewhat telegraphic air. Luckily, the "Directions" section at the beginning of the volume decodes some of it for us: bds stands for "boards," while h stands for "house"; other abbreviations, such as n s ("north side") and bl ("below"), were used to help identify the location of a residence, especially in cases where the streets were not numbered. Even in this brief listing, we start to get a feel for the rich contextual information that city directories can provide – along with important details that allow us to distinguish, in the example above, between the James Bailey who is a medical student and the James Bailey who lends his name to the Bailey & Brothers watch and jewelry store.
Many of the Utica directories offer additional content beyond the basic lists of residents' names, such as registers of officers in city and county government, as well as directories of local clubs, churches, and schools. The 1858 volume is a particularly content-rich edition, featuring a detailed fold-out map of the city: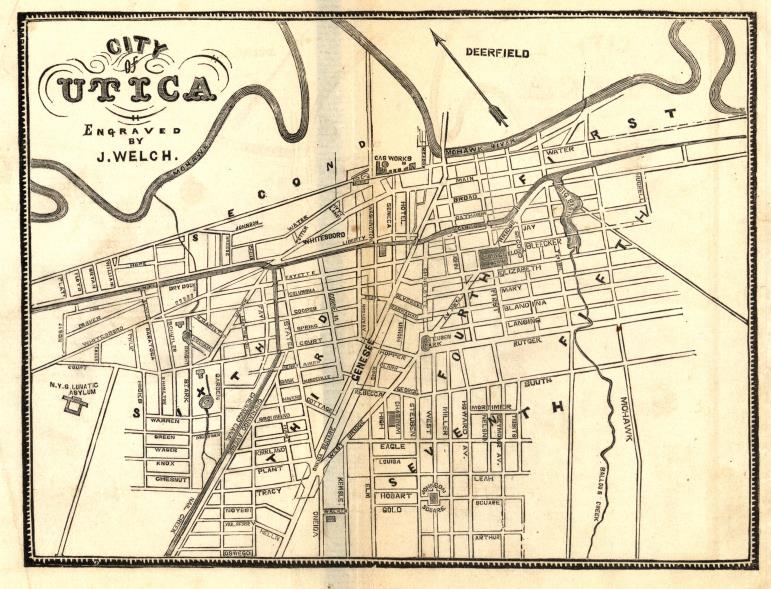 NEHGS members can view all of our Utica City Directories here, or browse through the full collection of digitized city directories in the NEHGS Digital Library & Archive. Stay tuned as we continue to add more of these rare directories from our research library.