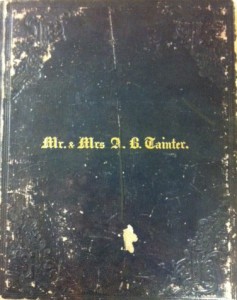 NEHGS has a rich collection of diaries. While browsing our Guide to Diaries in the R. Stanton Avery Special Collections, I came across the mid-nineteenth century diary of Emily J. Tainter of Newtonville, Massachusetts. Newtonville, one of thirteen villages in the City of Newton, is just a few miles from Boston; the area was first settled in 1630. The Guide described the diary as concerning marriage and family life, and I was curious to get a glimpse of a Newton woman's life during the mid-1800s.
The first entry was dated 5 September 1855; the last during 1881. The diary described weather conditions, the day's outfit, as well as daily chores and activities. It spoke of whom the diarist visited and who visited her, neighbors who became sick, friends who got married, and family members who died. There were also a few poems – though it was not clear if Emily wrote them or transcribed them into her diary. Some entries were simply stated, as on 9 January 1861: "very pleasant for our wedding day." Others described industrial progress; on 18 October 1855, Emily wrote that "gas [was] let into the pipes for the first time in Newton."
From the diary I learned that Emily J. (Cook) Tainter was born in Massachusetts 12 September 1839. She was the eldest child of James Monroe Cook and Emily Washington Fifield and had two siblings: a brother, Charles Monroe Cook (born 20 August 1841), and a sister, Henrietta Josephene Cook (born 20 May 1847). But I wanted to know more.  I searched for a marriage record in Massachusetts, Town and Vital Records, 1620-1988, and learned that Emily was a resident of Newton when she married Alfred B. Tainter of Watertown, Massachusetts, on 9 January 1861. Both Emily and Alfred were 21 years old when they were married.
According to an entry in her diary, Emily and Alfred moved into a house on Highland Avenue in Newtonville in 1874. After examining U.S. Federal censuses and city directories, and locating her death certificate and obituaries, I discovered the house number was 40. From the censuses, various diary entries, and the Massachusetts Vital Records 1841–1910 database at AmericanAncestors.org, I learned that Emily and Alfred had three children, all sons: Frank Lincoln, born 2 June 1862; Charles Henry, born 14 January 1867; and Willard O./William Oliver, born 21 August 1869. However, an entry in Emily's diary stated that "Willie" had been very ill with scarlet fever and died on 22 December 1872.
The death certificate for Emily listed her date of death as 20 February 1915. Her eldest son, Frank L. Tainter of 40 Highland Avenue, was the informant. She is buried in Newton Cemetery.
Being drawn into her life – initially by the diary, and later by finding key documents – I knew I had to see if her house was still standing at 40 Highland Avenue. Although it's somewhat hidden, here is what I found!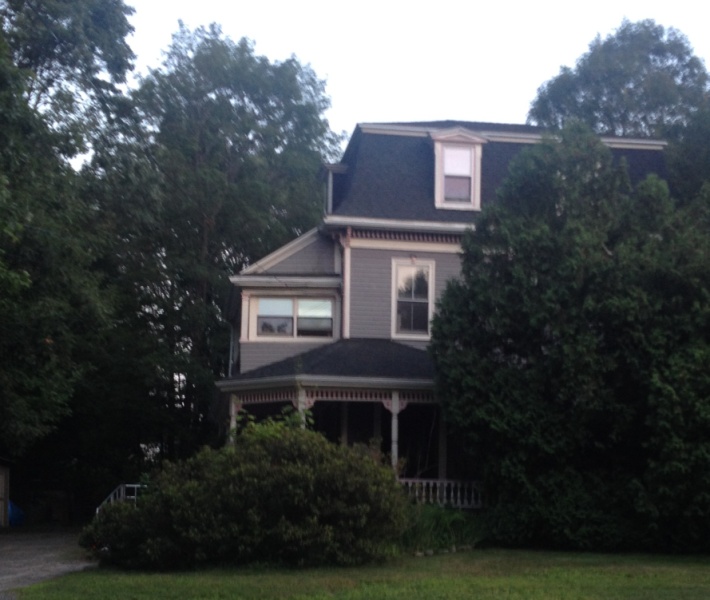 The house is located in the Newtonville Historic District.