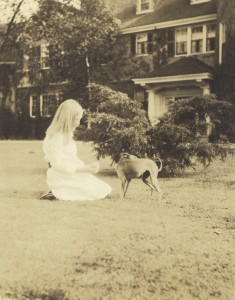 In thinking about the Ilsley family of singers and musicians to which my great-grandmother Theodora Ilsley Ayer belonged, I could think of no special evidence of the family talent having lasted into the twentieth century. Yet to pose the question is to invite the answer, and in fact I have a letter – preserved in my paternal grandmother's scrapbook – hinting at musical skills which Mrs. Ayer hoped to foster.
In November 1925, my grandmother (Anne Beekman Ayer) was at school in Virginia. From the letter written by Margaret Liddell Torrens on 9 November, it would appear that Anne visited the Torrenses in New York, perhaps en route to or from Boston, where the Ayers lived. Both Mr. and Mrs. L. A. Torrens were voice teachers, but it was Mr. Torrens who heard Anne sing – and perhaps play the piano as well – while it was Mrs. Torrens who wrote Theodora Ayer communicating her husband's verdict. (Click on the images to expand them.)
It would seem that, unlike some of the nineteenth-century Ilsleys, Anne's talents as a singer and pianist fell well within the normal range. The Torrenses noted, politely, that she was very young still, and that she should continue working on her piano and languages and "cautiously with her voice." (Interestingly enough, my grandmother's first cousin Anne Proctor Ayer became a well-known mezzo-soprano singer – but she was a cousin on the Ayer rather than the Ilsley side.) My grandmother later studied in Paris, and perhaps this had to do with further musical training, but in any case she married my grandfather in November 1927, at the age of nineteen, and devoted her energies to raising her sons and running a farm in Massachusetts.
I should close by saying that my sisters are both talented singers and musicians. Perhaps this is the latest manifestation of the Ilsley musical skills (on our father's side) and those of the Boucher family (on our mother's side) – it's a nice thought!