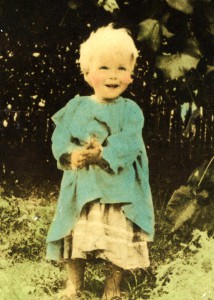 Two weeks ago, I wrote about a breakthrough in determining the parentage of my great-grandmother, Orella (Turnbull) Turnbull. While stuck in my recliner for several days with my foot elevated, I made another discovery, about Orella's husband George.
For years I've been sporadically working at tracking down the Turnbulls. They are the only English family in my largely Finnish and Swiss ancestry, and it seems they should be much easier to trace.
About all I knew about George Turnbull was what I had gleaned from the 1880 and 1900 censuses, from birth and death certificates of his children, and from some notes from my father. George was born in England. He and Orella lived in her birthplace of Bellaire, Belmont County, Ohio — that's where most of their children were born — but at the time of the 1900 census they were living in Duquesne, Pennsylvania. The 1900 census also told me that he was born in May 1857 and that he immigrated in 1870. I have not found immigration or naturalization records. Who did he come with, who were his parents, and where was he from?
On this recent armchair genealogical trek I pulled out a file folder labeled Turnbull, containing five-year-old printouts of the 1861 English census, with a page showing George Turnbull, age 5, of Pelton, Durham, who seemed promising — even though my George would have been 4 at the time of the 1861 census.
Sitting in my recliner, I looked again at all my notes and realized I'd been making a rookie mistake. I'd been weeding out the extraneous George Turnbulls by searching for one in Ohio; that's where my family is from, and where all the family stories are centered. But there was Pennsylvania staring at me on the 1900 census. When I searched for George there, up came a death certificate. Correct birthdate. Husband of Orella. He died at Leet, Lawrence County, 20 December 1933. Son of (drumroll) Thomas and Elizabeth Turnbull.
I returned to the 1861 English census. The first hit: George Iwenbull [George Turnbull], age 4. Son of Thomas and Eliza of Ouston, Durham. Bingo? I think so.
Had I overlooked this entry previously because of the mis-transcription of the name, which someone had since corrected on Ancestry.com? Possibly. But the bigger lesson seems to be to really look at the data, and every bit of it, and from every which way. And then put it down for a while, and look at it again.