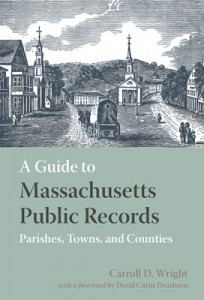 Despite its relatively small size, Massachusetts arguably has the most complete and comprehensive set of records of historical value of any state. Record-keeping began shortly after the first settlements were established, and for the most part the records have survived to a remarkable degree. The records themselves exist at every level of government: state, county, and town.
By the mid-nineteenth century, agitation grew for establishing a public records commission, such as existed at the time in England, with the power to bring all the Commonwealth's important records into a single repository. Other parties objected to this idea, both because of the possible expense involved, but mainly because many local officials objected to giving up custody of their records. Despite these objections, interest in the subject grew to the point that in 1884, the Massachusetts Legislature authorized the preparation of a report showing the condition of the public records of the parishes, towns, and counties of the Commonwealth. Carroll D. Wright was appointed commissioner to prepare this report.
Wright's Report on the Custody and Condition of the Public Records of Parishes, Towns and Counties, published in 1889, is the result of his efforts. This remarkable book brings together under one cover a town-by-town, church-by-church, and county-by-county listing of all the records existing for each jurisdiction. Its 379 pages contain a wealth of information useful not only to the genealogist, but to the local historian as well.
Genealogists researching Massachusetts ancestors are fortunate in that for many (but not all) towns, the records of birth, marriage and death have been published in book form down to 1850. Other types of records, such as those of selectmen's minutes, town meetings, tax rolls, proprietors' records, etc., often are not in print or are not readily available. In such cases, a trip to the appropriate city or town clerk's office may be advisable. When visiting a city or town hall, it is not unusual to encounter clerks who have little knowledge of (or interest in) their historical records. Armed with the knowledge of what was known to have existed in the clerk's custody in 1889, you should be in a better position to gain access to the particular type of record you desire.
Users of this book should keep in mind that many things have changed since this book was first printed. Many churches that flourished then have merged with other parishes or no longer exist. On 26 April 1927, the four central Massachusetts towns of Dana, Enfield, Greenwich, and Prescott were abolished to make way for the Quabbin Reservoir, and the remnants of each were annexed to neighboring towns. Early probate records for a number of counties are no longer held in the local registries, but are now at the State Archives. Those seeking a better understanding of the intricacies of Massachusetts records should also consult several other books.
For church records, Harold F. Worthley's An inventory of the records of the particular (Congregational) churches of Massachusetts gathered 1620-1805 (Cambridge: Harvard University Press, 1970 [Harvard Theological Studies, XXV]) is an excellent, but now somewhat dated, town-by-town listing of each Congregational (many now Unitarian-Universalist) church in the state. William Francis Galvin's Historical data relating to Counties, Cities and Towns in Massachusetts (Boston: NEHGS, 1997) incorporates from Wright much of the data relating to the formation, naming, and boundary changes in the state's municipalities, but brings it up to date.
Richard LeBaron Bowen's Massachusetts Records: A Handbook for Genealogists, Historians, Lawyers, and other Researchers (Rehoboth, Mass.: Privately printed, 1957) provides a good general discussion of records, with emphasis on those at the county level. The chapter on Massachusetts, by Winifred Lovering Holman Dodge, in vol. 1 of Milton Rubincam, ed., Genealogical Research: Methods and Sources (revised ed., Washington, D.C.: American Society of Genealogists, 1980) also provides many useful insights into the peculiarities of record-keeping and jurisdictional border-changes in Massachusetts that may trip up the unwary genealogist. Finally, users should consult the Massachusetts chapter of Michael J. Leclerc, ed., Genealogist's Handbook for New England Research (5th ed., Boston: NEHGS, 2012) for general information on researching and records in the state, including detailed maps, up-to-date addresses and contact information, and a valuable listing of towns.
Carroll Wright's Report on the Custody and Condition of the Public Records has long been out of print, and only a few genealogists have even been aware of its existence. It is my hope that the new NEHGS printing will bring this extraordinarily useful and neglected book to the attention of a much wider audience.
Adapted from the foreword to Carroll D. Wright's A Guide to Massachusetts Public Records: Parishes, Towns, and Counties.