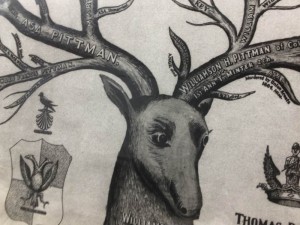 The "Manuscripts@NEHGS" column in the Spring 2014 issue of American Ancestors contains extracts from each of the three collections processed by interns for the R. Stanton Avery Special Collections during the Fall of 2013. The collections were the Burnham Family Papers (Mss 1120), Charles Harold Floyd Family Papers (Mss 1118), and the Walker Family Papers (Mss 1119). While interns were working on these collections, the Special Collections staff began processing a fourth collection, the Horace Augustus Knowles Papers. This collection also contains interesting personal accounts, similar to those highlighted in the magazine article.
Horace Augustus Knowles Papers
This collection, donated by NEHGS Board Member Lynn Trowbridge in 2013, contains documents concerning the family of Horace Augustus Knowles, Jr., son of Horace A. and Elsie (Stanley) Knowles. Horace, Jr. was born 30 January 1912 in Ruston, Louisiana, and he died 22 May 2007 in California. Horace married Virginia Farwell Ratcliff (1914-2006) on 6 September 1939 in Shreveport, Louisiana. Horace describes himself as a "writer, newspaper reporter… speechwriter in U.S. Office of Secretary of Commerce, and inventor."
The collection contains notes and records on the Knowles, Van Sweringen, Jones, and Fitz Randolph families. There is a Bible record for the James and Elizabeth (Hindley) Nelson family of Philadelphia, 1815-1888, and two genealogical charts: descendants of "Bartholomew Dupuy and Susanna La Villan refugees from France in the year 1700" (tree motif) and descendants of "Thomas Pittman and Hannah Fielding Pittman, the parents of Williamson H. Pittman who was a noted Baptist minister of Va. 100 yrs. Ago" (deer antler motif). The collection contains correspondence, literary manuscripts, poems, invention patents, and photographs. Horace's inventions include "The Twidd," a thumb-twiddling toy (patent number 4,227,342) and "Placemark," a bookmark for identifying a location on a page (patent number 5,311,835). Much of the correspondence consists of letters written by Horace while he served with the United States Marines' Third Division during the Second World War, 1943-1945. The following quote is from a letter written by Horace A. Knowles on 5 September 1944 to his wife:
I hope to get to work in a day or so on a story, designed to sell to a magazine, about the War Dog Co. of this division…These dogs really turned in a marvellous piece of work here. They have been used in the Pacific only once before – on Bougainville, by this same division – but only a few were used. This time, they had around 75 dogs. So outstanding was their work, that the outfit is being doubled in size. They were used most effectively just like hunting dogs – being turned loose out in front of a patrol, and alerting when they encountered a group of men up ahead. Usually only one or two dogs were used with a patrol. Some of them have as many as 20 "alerts" to their credit. Of course, it's impossible to tell how many Marine lives they saved, but it must run into the hundreds… The [Japanese] also had fine big German shepherds here, and this outfit found a couple of them… Of course, they're keeping them… Incidentally, the dogs understand only Japanese right now. They had an interpreter down from intelligence to give the dogs some simple orders in Japanese – come here, lie down, sic' 'em, etc. and they responded fine. They're fast learning English, though.