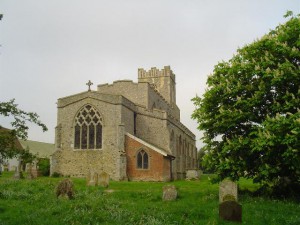 One of my current projects is a new genealogy of the Winthrop family of Suffolk in England and then Massachusetts Bay in New England. I am in the process of reading through the Winthrop Papers, a six-volume collection of documents associated with the family in England and America – including many letters by family members, friends, and associates – during the sixteenth, seventeenth, and eighteenth centuries. Of particular interest in Volume 1 is the diary kept by AdamA Winthrop (1548–1623), the father of Governor John1 Winthrop of Massachusetts Bay.
As an important landowner in Suffolk, Adam kept extensive accounts, noting debts he owed or was owed, as well as the births, marriages, and deaths of his family and neighbors. His diary entries can be prosaic ("The xxith of Feb. I had a lambe killed with a dogge"); at other times, he takes notices of events in the wider world, writing of King James I on 27 April 1603: "As he rode backe from Burleigh … His Majestyes horse fel with him, and very dangerously bruised his arme." (pp. 67, 152)
The portrait derived from the diary suggests a busy man of affairs, devoted to his wife and family, at the center of a network of inter-related clans – in fact, late in the volume a rather weary note explains that the relationship between Susan (Crymble) (Forth) Golding and Mary (Forth) Winthrop was at once that of a half-sister and an aunt/niece. (p. 378)
So as not to try the reader's patience, I have translated the spelling and orthography of other entries following modern English usage:
"The [__] day of January [1595] the butcher of Wetherden Wood was cruelly murdered, viz. his head was cut off and his body divided into 4 quarters and wrapped in a sheet and laid upon his own horse, as he came from Bury Market; and so brought home to his wife, who upon the sight thereof presently died." (p. 66)
"The 19th of April 1606 my sister Snelling [Anne (Browne) Snelling] sent me 29 young pigeons to store [in] my Dovehouse." (p. 92)
"Memorandum that the 29 of September being Michaelmas Day [1607] Old Surrey's wife did fall into the water at Hornersbrooke in Groton and was in danger of drowning if Podd's wife had not stepped into the water and held her up until more help came to pull her out." (p. 96)
"My brother Alabaster and my sister [Bridget (Winthrop) Alabaster] departed towards Ireland the eighth day of July 1595; it thundered and rained very sore that day." (p. 139)
A letter from Adam's second wife presents another view of the diarist: "I have received (right dear and well-beloved) from you this week a letter, though short, yet very sweet, which gave me a lively taste of those sweet and comfortable words, which always when you be present with me, are wont to flow most abundantly from your loving heart, whereby I perceive that whether you be present with me, or absent from me, you are ever one towards me, and your heart remains always with me." (p. 29)
A final glimpse of Adam Winthrop and his growing family comes from his son John's letter of 25 March 1623 to John2 Winthrop in Dublin: "Your mother is lately delivered of another son (his name is Deane), and is reasonably well (I praise God) with your grandmother, brothers, and sister, uncle and aunt Gostlin, etc., but your grandfather is very weak and (we fear) in his last sickness. They all salute you and rejoice in your welfare." (p. 279)
AdamA Winthrop died at Groton 28 March 1623.