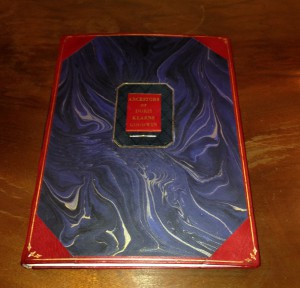 Every year at this time, the New England Historic Genealogical Society holds its annual meeting here in Boston. This year, the program began on Thursday with a lunch for board members, councilors, and other out-of-town guests, followed by tours of the Society's new building at 97 Newbury Street and the new conservation laboratory at 99–101 Newbury Street. Friday was devoted to committee and other meetings for the board and council, culminating in a gala dinner where presidential historian Doris Kearns Goodwin received the Society's Lifetime Achievement Award for American History and Biography. Ms. Goodwin was given a hand bound copy of a genealogy commissioned by the Society and compiled by Chris Child and David Allen Lambert, and she spoke to the group about "Everlasting Legacies"; her address had the epigraph "The people we love will live on so long as we pledge to tell and retell the stories of their lives."
This morning, NEHGS board chairman David H. Burnham opened the 2013 Annual Meeting at the Leslie Lindsey Memorial Chapel at 15 Newbury Street at 9:30 a.m. The program included a report from Bill Griffeth, the Society's treasurer, and Jonathan "Dutch" Treat of the Nominating Committee provided a slate of new trustee and council nominees on whom the meeting voted.
President and CEO D. Brenton Simons recognized David C. Dearborn, FASG, who retired from the Society's staff in March 2014, and then reported on some of our activities during FY 2013. He noted the acquisition of the John Lewis building at 97 Newbury Street, the development and launch of a new strategic plan – with its restatement of our institutional purpose ("To advance the study of family history in America and beyond, we educate, inspire, and connect people through our scholarship, collections, and expertise") – and the beginning of the final phase of the NEHGS capital campaign. He spoke of the ongoing efforts to recruit important new content for the AmericanAncestors.org website and to form and strengthen partnerships with like-minded non-profits, as well as the promotions during the year of Ryan J. Woods as Vice President and COO, Edward G. MacMahon as Vice President of Development and Member Services, and Kelly McCoulf as Director of Constituent Services.
Brenton reviewed the new facilities at 99–101 Newbury Street (including enhanced office space for the Education and Research Services teams), the selection of new investment managers for the Society's endowment, and NEHGS's participation in tours and conferences throughout the United States and as the anchor location for Finding Your Roots with Henry Louis Gates, Jr., on PBS. During the same period, he added, we redesigned our member magazine, American Ancestors, now published in full color; produced much new online and in-print content; won awards for our publications; and recruited Alicia Crane Williams to the new Early New England Families Study Project – and all of this with a better-than-budgeted financial picture for the organization at the end of the year.
This afternoon, Ryan Woods, Publishing Director Penny Stratton, and Library Director Jean Maguire reflected on "A Year in Scholarship," a showcase of the Society's publications and archival acquisitions in 2013–14. Right now, the Society is hosting a book launch party for Cornelia H. Dayton and Sharon V. Salinger's new book, Robert Love's Warnings: Searching for Strangers in Colonial Boston. This busy weekend concludes on Sunday, with a day-long program on "Organizing Your Family History: Expert Strategies from Start to Finish," with presentations by Rhonda McClure, Alice Kane, Penny Stratton, and Stephanie Call of AJHS–NEA.