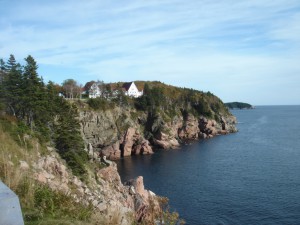 My actual hometown is seventeen miles south of Boston; I have called Stoughton my home since birth, and as a genealogist I can claim a variety of ancestral home towns or villages. Genealogically speaking, however, I feel most at home in Nova Scotia, Canada.
My paternal great-grandfather, James Albert George Lambert of Halifax (1846-1928), was for many years my genealogical brick wall.  Back in the 1980s and 1990s I spent countless hours writing letters and going online, but these searches never allowed me to leap over that brick wall. 
It was when I first travelled to Halifax on a research trip with NEHGS that I started to gather data for my one name study on the Lamberts. I had not intended to do so, but I needed to rule out which local families were not my particular Lamberts. I began by studying Canadian census, probate, Crown land, vital, and church records to determine where clusters of Lamberts resided. The one-stop shopping of many Nova Scotia records at the Provincial Archives in Halifax made this possible. I found the archives staff very friendly and helpful, and it was like spending time with old friends.
During my trip I was also able to visit local cemeteries in Halifax for additional clues to my family. While at the archives I combed over various other resources such as school records and account books that further added to my research log. After my visit to Halifax I was better suited to select potential candidates for my DNA testing of Nova Scotia Lamberts.  One candidate for the father of my great-grandfather was John Lambert, originally from Southampton, Cumberland County, Nova Scotia, who died in Halifax in 1869. I was later able to confirm my Y-DNA a match with a Lambert living in Cumberland County whose great-great-grandfather was my great-grandfather's brother.
During this and other trips to Nova Scotia I gained a greater sense of my ancestral home beyond the walls of the archives. This rare chance for me to stroll the historic streets that my ancestors walked and see the architecture they saw first-hand was very fulfilling.  To add to the cultural experience I was tempted by the fine selection of Canadian seafood, and hearing local music being performed live was an important part of the tour for me.
When I return to Nova Scotia in June this year with NEHGS I look forward to helping break down some additional Nova Scotia brick walls. I hope that you will consider joining us this year to reclaim a piece of your own ancestral Canadian homeland.
For more information on the 2014 NEHGS trip to Nova Scotia, please visit: http://www.americanancestors.org/Event.aspx?id=29444.