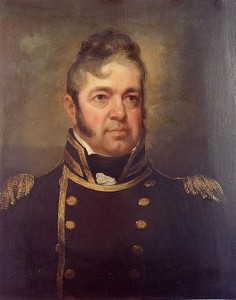 I have had two good personal experiences with heraldry — and no bad ones.
When I was developing the West Indian ancestry of my ancestress, Susanna (Heyliger) Bainbridge, I found that her grandson (my great-grandfather) had drawn up an elaborate coat of arms for her husband, Commodore William Bainbridge, based on the arms of an unrelated Bainbridge family, quartering the arms of an unrelated Taylor family. (The Commodore's mother was Mary Taylor. For an explanation of quartering arms, see this Wikipedia article.) Included in this heraldic disaster as a single quartering were the supposed arms of the Heyliger family. And, as it turned out, they were valid arms — though not for the Heyliger family.
My first genealogical contact in the Netherlands explained to me that Susanna's grandmother was Susanna (Gignilliat) (Heyliger) Sargent of St. Kitts and St. Eustatius. A few years later, I found that the elder Susanna was the granddaughter of Jean-François Gignilliat, a French Swiss immigrant to South Carolina. Much work had already been published on the Gignilliat family in Switzerland, and the supposed arms of the Heyliger family were the actual arms of the Gignilliat family!
Four of my immigrant ancestors came to the United States between 1795 and 1800, one of whom was Susanna (Heyliger) Bainbridge, already mentioned. Another was Lydia Latrobe, who came as a child from England in 1800 to join her father and stepmother in Philadelphia. Her father was the architect Benjamin Henry Latrobe, who had come to the United States in 1796. His first wife was Lydia Sellon, and gradually I started to find her English ancestry, once I had received a copy of a 1976 article on her family. I was eventually able to show (with help from good English researchers) that Lydia was descended from William Sellon, yeoman, who married by 1653 Margaret Spier, a member of a minor gentry family with some major ancestry.
Margaret was descended from William St. John (1538–1609), who was identified by the leading English genealogist, G. E. Cokayne, as the son of John St. John by his first wife, Margaret Carew, largely because William's daughter quartered the Carew arms. A little searching in printed sources showed me this was unlikely and that the Carew quartering must have had a different origin in the St. John ancestry. And indeed it turned out that William's mother, Jane Ewardby, was the daughter of Sanchia Carew. Of course, several genealogists had already figured this out long before me, but it did provide yet another lesson not to believe everything in print.
Another way of saying it: Be sure to treat heraldry as a source for clues. The Heyliger arms were not the Gignilliat arms, yet the juxtaposition of the two – when I was already studying both families – helped to clarify both the genealogy and the heraldry. Lydia Latrobe's St. John family quartered Carew, not because they were descendants of Margaret (Carew) St. John, but because an earlier St. John wife was the daughter of a Carew. The first answer, it turned out in both cases, was not the last (or the best) answer!