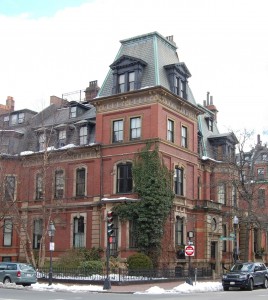 If you are familiar with Boston's Back Bay, you have probably wondered who lived in a given house when it was first built, or how it has changed and been used over the years. Do you have an ancestor or relative who lived in the Back Bay and wonder about where he or she lived? If so, there's a website that might answer at least some of those questions.
NEHGS member Tom High recently launched a new website designed to provide "genealogical histories" of many of the houses in the Back Bay. The URL is http://Backbayhouses.org. The site, which updates and expands on information previously submitted to bosarchitecture.com, includes about 950 web pages with information on the buildings in a large part of the residential Back Bay – from Arlington Street to Massachusetts Avenue, and from Beacon Street to Commonwealth Avenue. Some of the pages include information on more than one building, including buildings which have been demolished and replaced over the years.
Each page begins with a description of the location of the building, with links to the immediately abutting buildings, a map showing the location and lot size (based on deeds), and a recent photograph. Additional photographs, including historic photographs when they can be obtained, are included throughout.
The text traces the historical ownership and occupancy of the building. Less detail is provided for the years after 1970, and the description ends when a building has been converted to apartments or condominiums.  For buildings originally designed as apartments, information on the ownership and use is provided, but not on residents.
If a resident moved from one Back Bay house to another, there are links to trace them from house to house.
The site also includes a web page for each architect and architectural firm that did work at some time before about 1950 in the portion of the residential Back Bay covered by the website. Each page includes biographical information and links to the page for each building the architect/architectural firm designed or remodeled.
Tom cautions that this is "still a work in progress." He is adding historic photographs from the Boston Public Library, the Bostonian Society, and other sources, and augmenting, refining, and correcting the information on the people who lived in these wonderful homes. "Genealogy is like a jigsaw puzzle with no edges and unlimited pieces – the puzzle is never complete, but the each piece makes the picture that much clearer."
He adds, "My wife and I have been members of the NEHGS for many years, and the resources on the Society's website and the many articles, necrologies, and memoir entries in the Register have been invaluable to our work."
Tom welcomes comments, suggestions, questions, and corrections sent using the "Contact" tab on the site.