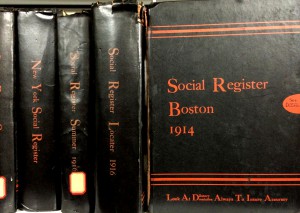 In my role as a technical services librarian, I've recently been working on adding issues of the Social Register published between 1890 and 1923 to the NEHGS Digital Library. Started in 1886, this publication is a directory of names and addresses of prominent American families. At its inception, the Social Register was primarily populated by descendants of early Dutch and English settlers of New York, but the scope of the series quickly expanded, and by 1918 there were eighteen annual volumes representing twenty-three U.S. cities. The Social Register Association continued publishing separate volumes for different cities until 1976, when the listings were consolidated into a single publication.
The Social Register provides an annual snapshot of the "high society" of its date, but the series also gives valuable information about the individuals listed in its pages, such as academic affiliations, membership in clubs and societies, and notices of births, deaths, and marriages. Below, for example, is a page from the "Married Maidens" section, which is designed to provide "convenient reference" between a woman's maiden and married names. (Click on images to expand them.)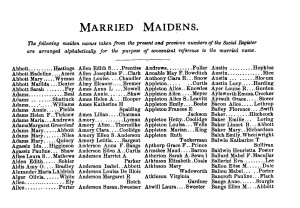 In spite of this high research value, though, only a small percentage of the Social Register volumes are currently available online; while a number of issues for larger cities like New York and Chicago have been digitized by organizations like HathiTrust and Internet Archive, some other cities like Baltimore and Providence have little to no online availability. On top of this, many of the older Social Register volumes in NEHGS's collection are in very fragile condition, with brittle pages and weakened spines. So we hope digitization will allow us to provide wider access to the publication's content, without further endangering the condition of the already fragile physical volumes.
As I began investigating the possibility of digitizing the Social Register, I quickly realized that NEHGS actually had far more extensive holdings of the publication than might have been apparent from our library catalog. Searching the catalog, you might have been led to think that we had only the modern, consolidated version of the publication, from 1977 to the present; in actual fact, we had volumes for a wide range of cities, stretching from Boston to San Francisco and starting as early as 1887. Digitization gave us a good occasion to remedy this lack of visibility: we've enhanced the metadata in our library catalog to make it easier to see what cities and years NEHGS has, so that it's simpler to find – whether in print or in our Digital Library.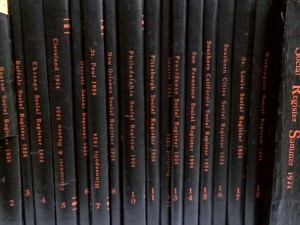 We've started our digitization process by adding 12 volumes of the Boston Social Register that were previously unavailable online.  Over the coming months, we hope to add additional volumes, starting with particularly underrepresented cities like Baltimore and Providence. Stay tuned!
February 2019 update: Please note that these Social Register volumes are no longer available online. They continue to be accessible at the NEHGS Library in Boston, and copies of specific pages may be requested through the NEHGS Photocopy Service.