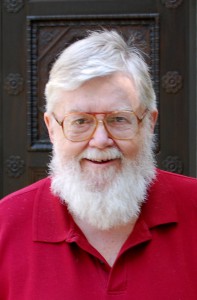 Lately, I have been reading Tom Webster's Godly Clergy in Early Stuart England: The Caroline Puritan Movement, c.1620-1643. Much of this volume is built around Thomas Hooker's time in Chelmsford, Essex, in the late 1620s. One of my goals is to document in detail and with precision these years in Hooker's life, a period in which he was lecturer at Chelmsford, school teacher at Great Baddow, and a leading influence on the development of young ministers of Puritan inclinations in East Anglia.
Much has been written about Hooker at this stage of his life, some of it from Cotton Mather's Magnalia Christi Americana, not the most reliable of sources. Modern historians make repeated reference to the "household seminary" run by Hooker, and I am concerned that this aspect of Hooker's career has been distorted by the way Mather presented his information. A fair portion of my research trip to England in the fall will be devoted to collecting copies of all the original sources for Hooker's life in Essex, and reading Webster's book is part of the preparation for that research.
I have also gone back and reread the early sections of Jeremy Bangs's Strangers and Pilgrims, Travellers and Sojourners, in order to get clear in my head the chronology of the founding of the Scrooby (Nottinghamshire) church and the events that led to members of the congregation departing for Leiden in Holland. Aside from its intrinsic importance, I wanted to be sure I understood the participation in that process of such ministers as Richard Bernard and Arthur Hildersham, two men who are important in other parts of the Great Migration story. Especially in connection with this strand of the research, I have made significant additions to my Personae file, the list of all those individuals who wind in and out of the Great Migration story.
I have a good collection of the historical literature on English Puritanism published up until the early 1990s, but after that time I have collected very little in this area, so I am aware that my knowledge of what historians have been up to for the last twenty years has some serious holes in it. Based partly on suggestions from Frank Bremer, I have acquired two important recent volumes: Michael P. Winship's Godly Republicanism: Puritans, Pilgrims, and A City on a Hill, and Patrick Collinson's Richard Bancroft and Elizabethan Anti-Puritanism, both of which I have begun reading. The footnotes and bibliographies in these two volumes will go a long way toward bringing me up to date with the historical literature.